...it's etiquette for dogs!





"You can tell by the kindness of a dog how a human should be"
Mondays to Fridays 06:30 am to 6pm. Saturday daycare available with prior booking.
Please note that all dogs attending our facility have to be sociable with other dogs and people.
Please call/email to book an introduction for your dog. There is no charge for us to meet yourself and your dog.
You will need to bring the following with for your dog's introduction:
Your dog's vaccination booklet (up to date)
Kennel Cough vaccination. Please speak to your vet regarding this vaccination
A good flea and tick application has to be in place, as well as regular de-worming
If your dog is fed at lunch time, bring his/her food with in a lunch box.
Our pay as you play rates are as follows:
R75 per dog for a full day
R50 per dog for a half day (6 hours or less)
R95 per dog for a full

Saturday

(7am-5pm)
R60 per dog for a half

Saturday

(5 hours or less)
For our more regular students, we offer two new packages:
The Monday To Friday Dog: R350 per dog per week  (rate = R70 per day)
3 X Lucky Dog: R220 per dog per week  (rate = R73.33 per day) 
Assessments and introductions take place by appointment between 12pm – 2pm on weekdays. Or 11am – 12pm on Saturdays.

Grooming specialists Freshly Groomed offer our clients pre-booked grooming services at  Pet-i-ket. We are excited to announce that Freshly Groomed has a base at Pet-i-ket and is providing their professional passionate pet grooming service to Pet-i-ket clients on Mondays and Fridays.
For rates and any other grooming information, please contact Freshly Groomed:  
Whatsapp/Telephone: 082 469 9888
or check out their Facebook page: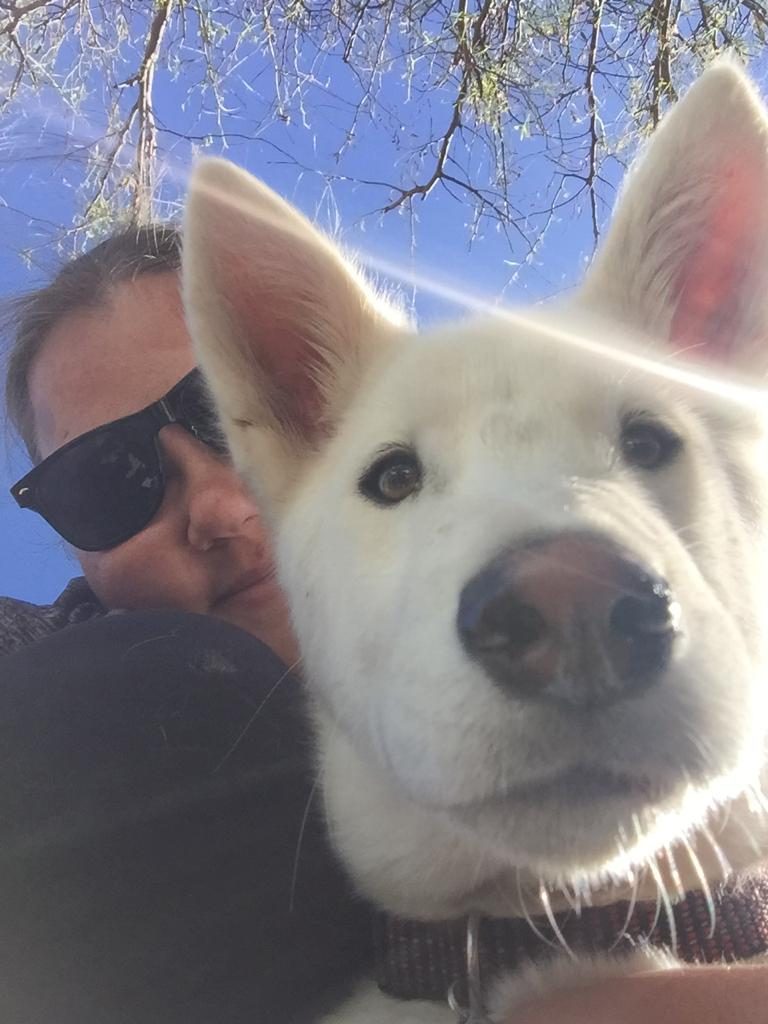 Please note that we only accommodate sterilized (spayed and/or neutered) dogs for boarding over 7 months of age.
Boarding requirements:
Own food
Up to date vaccination card
No need to bring bedding or bowls
The cost per dog is R125 per night and R140 per dog in Peak Seasons (1 December – 15 January and the Easter long weekend)
Please note that a 50% deposit is required for ALL boarding periods.
This could either be paid via EFT before, or in cash on the day of arrival. The balance is payable on or before departure.
Apart from dropping and /or collecting your dogs during the weekdays – 06:30am until 6pm sharp – the Boarding is the only department that has special times allocated for drop-off and collections over the weekends. These times are as follows: Saturdays 07:00am – 08:00am and Sundays 15:30pm – 16:30pm only. We do not operate on public holidays, i.e. open to the public.
For any bookings, or further enquiries, please contact us.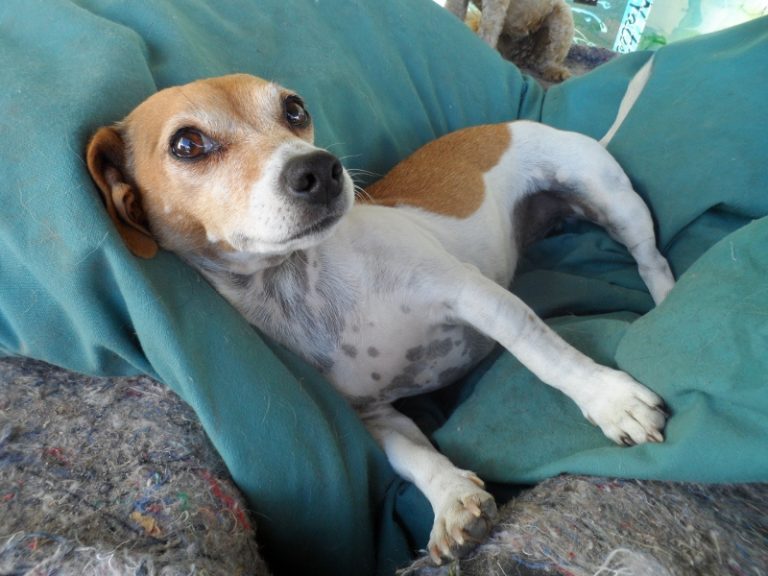 For any behaviour related problems, contact Pet-i-ket to schedule a consultation. 
Pet-i-ket owner and canine behaviourist; Kerry McDonald has been studying and practicing canine behaviour for the past 8 years and is just the person to speak to.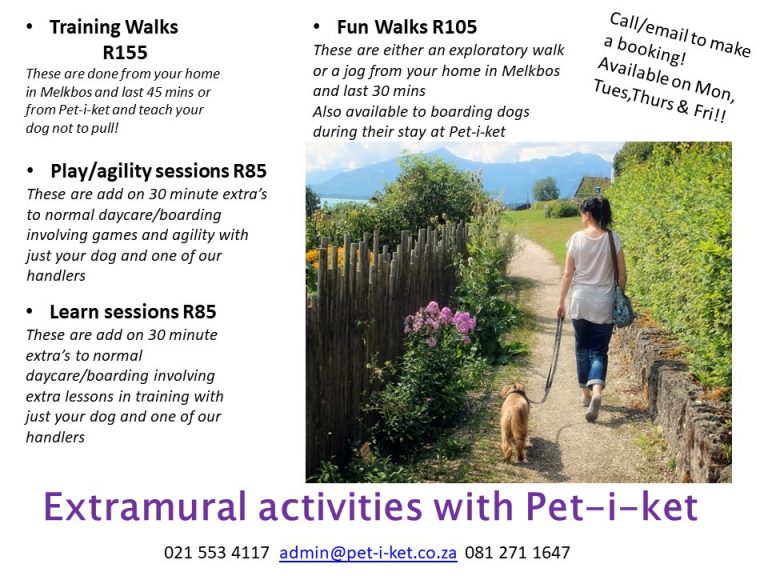 Hill's Puppy 101 Course.
This is for the ages of 8 weeks up until 16 weeks. It is a 4 week course (plus 1 x online theory lesson) 
Venue for the course is Briza Vet – 161 Blaauberg Road,Table View. Thursday evenings 6pm – 7pm.
Pet-i-Ket – Klein Zouterivier farm, R27, Melkbosstrand. Saturday mornings 8am – 9am.
Cost R550 per puppy.
Pups need to have had their 2nd puppy vaccination in order to attend…. What to bring:
Your puppy on a soft collar and lead
Tasty treats (pieces of chicken, droewors, liver biltong, normal kibble or a combinations of all)
Vaccination card for viewing
R500 cash or EFT in advance
Make a booking now for the next course!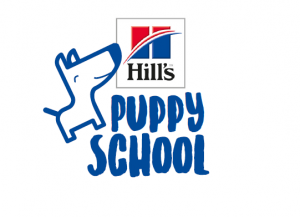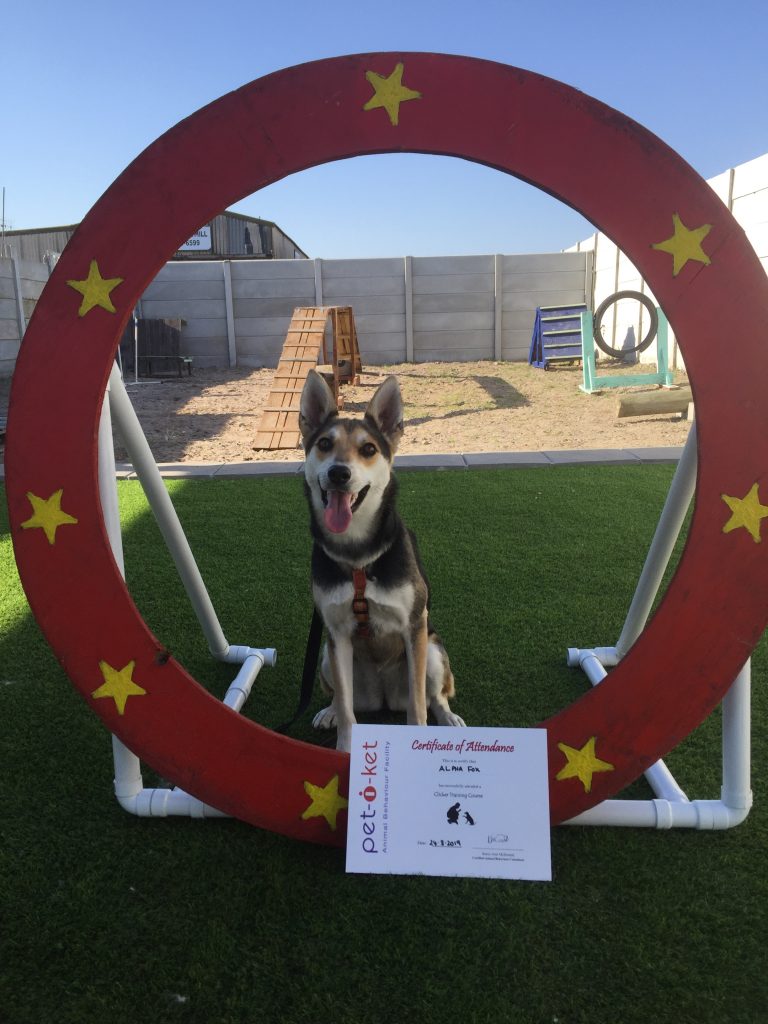 Clicker Beginners Course.
This is for the ages of 5 months and older. It is a 5 lesson course.
Venue for the course is Pet-i-ket.
The first lesson is an online theory class. 
4 X Practical lessons with dogs take place on Saturday mornings at 10am.
Cost is R580 per dog.
Enquire now and book your spot via email/phone.
You will require a clicker, which we do sell at the facility, but all will be explained at the theory class.